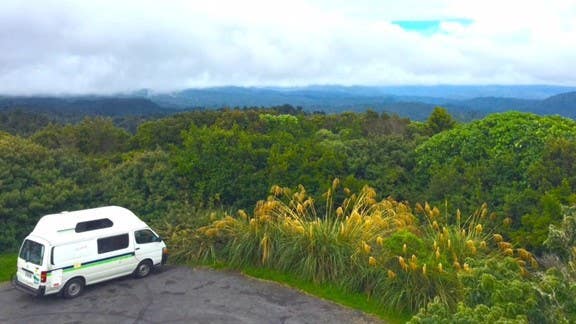 After returning from a two month trip around New Zealand with her family in a van, Yoga Anytime teacher
Kari Sims Anthon
of Sisters, Oregon was willing to answer a few of our burning questions about her adventure and yoga life abroad.
Yoga Anytime:
What inspired you to pack your family of three into a van and adventure around New Zealand for two months?
Kari Sims Anthon:
I have had a long-standing love affair with New Zealand ... My first visit was nearly 20 years ago; I lived on the North Island and taught yoga for several months and then traveled extensively throughout both islands. Ten years ago I took my husband Dan to New Zealand for his first visit and he quickly fell in love as well. As a professional fly fishing guide, NZ had always been on his ultimate bucket list. That trip was three months of living out of a station wagon; lots of fly fishing, exploring, tramping, and backpacking on both the North and South islands. We decided then that we would love to someday make NZ a part-time home, and always have it be part of our adventures. Another huge draw for me is that my best friend also has settled in the North Island with her Kiwi husband, and is raising her two girls there.When I became pregnant, and my husband and I were trying to come up with names for our baby, we both decided that we would love to incorporate our love of adventure and travel into our child—so we decided upon the name "Auckland" to honor that energy. We could not wait to take our kiddo to his namesake; and this year, after he turned three, we figured it was the perfect time to introduce him. Campervan travel is very common in NZ, and the country is super accommodating to young children, so it was an easy decision to get a van to travel for a couple of months.
YA:
What were you most afraid of? What of the experience surprised you the most?
Kari:
The thing that I was most worried about this experience ended up being one of the greatest benefits and lessons of the adventure: how to live together as a family in such small and close quarters without any alone time. This simple fact was a huge challenge for all three of us; even Auckland was used to some alone/quiet time at home when he would go play in his room, for example. But being together 24/7 in a van forced us all to communicate more effectively, openly, and honestly. We had to tell each other what we needed, what we wanted, what we expected; and also how to compromise our own needs and wants with what was best for the family. This clear communication allowed us all to become closer both as individuals as well as a family unit.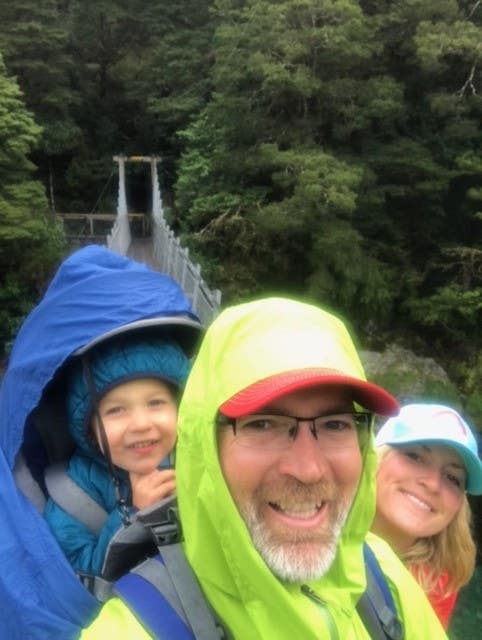 YA:
Where did you practice during your road trip and what did your practice look like?
Kari:
My personal practice during the trip was definitely more focused on living the practice in patience and truthfulness. My asana practice was inspired by the beautiful landscape and changing scenery, and was usually accompanied by my three year old. The asanas also were dictated by a cranky body from sleeping in a van every night.
YA:
What's the yoga scene like in NZ? What did you find yourself teaching while there?
Kari:
The yoga scene in NZ has changed quite a bit in the last 20 years since I first taught there, much like it has changed here in the States over the past 20 years. Most major cities and even smaller communities now have yoga studios, which certainly was not the case years ago. I also noticed quite a bit of "power" and "hot" yoga trends there, especially in the more touristy-areas. I focused my NZ teaching this trip on Restorative and Therapeutic Yoga specifically. I lead a few public restorative workshops that were sold out with a waiting list, so to me that points to the need for a more grounded practice and teachings. I also led an intensive Restorative Teacher Training, and had a private Yoga Therapy client as well.
YA:
What did you miss about home the most?
Kari:
Whenever I travel I always miss my friends, family, and sangha. And Mexican food!
YA:
Are you planning on doing it again?
Kari:
Absolutely! We can not wait to return to NZ, and are hoping to eventually spend six months out of the year there—splitting our time between Oregon and New Zealand. It is a magical place with amazing people, inspiring landscape, yummy and healthy food, and a simplistic way of life. Not to mention some of the best fly fishing and wine on the planet, so that certainly helps both my husband and I.
YA:
Any advice or tips for peeps who have a similar dream?
Kari:
Follow your dreams! There is never going to be a "right" or "easy" time to leave your responsibilities at home and go on an adventure. So just do it. The memories of the adventures and experiences together will last a lifetime.
Practice with Kari
on Yoga Anytime on our yoga show,
Flow Sweet Flow,
and
follow us on Instagram
for more photos of Kari's trip.