As we begin to awaken from the slumber of winter and take notice of longer daylight, cherry blossoms, and tulips, we see the beginning of spring and rejoice! The spring buzz is all around. Can you feel it in your body and mind?
Signs that you might be waking up from the winter slumber include:
Clear mind upon awakening.
Stable energy throughout the day.
Excitement to make future plans.
An abundance of creativity.
When it feels like spring where you live, pay attention to your intuition and its instinctive response to want to cleanse, purge, and rejuvenate. Spring is really a time to thrive and it's difficult to soar if you're weighed down by your surroundings. A cleanse will help get rid of accumulated weight and clutter, and allow you to benefit from "what's not there".
Consider the following practices to feel your best at the start of this fertile new season:
Drink hot lemon water with a pinch of sea salt in the morning to wake up your digestive fire and prepare for morning elimination.
Drink hot water throughout the day to clear congestion (ama).
Meditate, focusing on what you wish for more of.
Exercise outdoors and do dynamic yoga practices that help you break a sweat.
Take a steam sauna or hot soak in a bath to help you sweat and cleanse your skin, the largest organ of your body.
Decrease heavy, oily, cold, fat-rich foods such as meat, dairy products, and foods cooked in oil. Increase your intake of foods that are bitter (like arugula), spicy (like radish), and astringent (like grapefruit and fennel). See my recipe for Fennel Bulb Pesto below.
Do inversions for a new perspective on the world.
With "spring fever" in the air, it's a great time to start new projects, practice yoga, plant seeds, and take action on what you've been dreaming about all winter.
---
Join Melina in her 5-Day Spring Ayurveda Yoga Challenge.
---
Fennel Bulb Pesto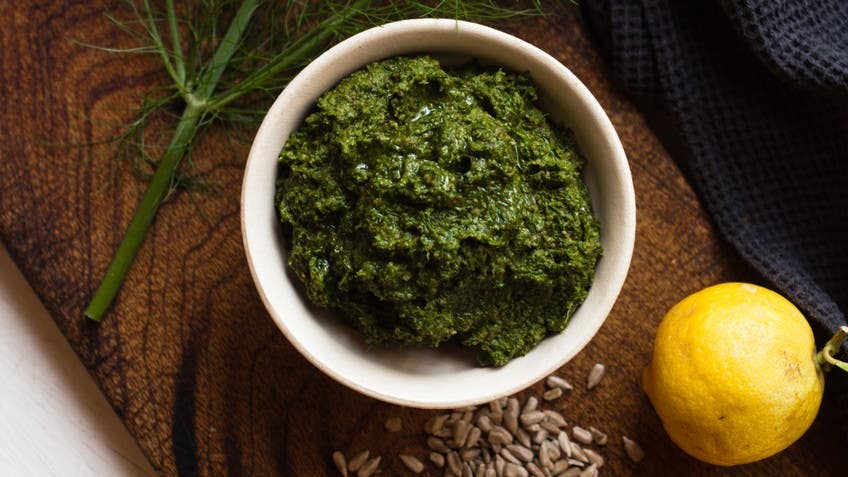 Ingredients
1 tsp apple cider vinegar
1/2 cup cilantro
1/2 cup fennel stalk
1/4 cup olive oil
1/2 cup pumpkin seeds
1/2 tsp mineral salts
Directions
Place all ingredients (including fennel bulb) in a food processor and blend to desired consistency.
Inspire yourself with your pesto creations. Try any leaf or green vegetable. Pesto makes a great garnish on any dish, but especially for beans, potatos, corn, or rice.
---