My current "Yoga Studio" (aka my bedroom in Hell's Kitchen, NYC) has been open since 2005, when I moved in. It's not the spacious, uber-cool, pristine space you might have seen in movies or tv. Far from it, actually. Perhaps you've been to New York, or even lived here, and have first hand experience with our small rooms and even smaller storage spaces. As New Yorkers, we learn to make do. What we lack in closet space, we make up for with creativity.
So here's what my home yoga studio looks like: I have a few cheap blankets to work with when I practice. My dog Marty has made them into dog toys more than once, so the strings are coming out and the ends are frayed. He also likes to pull a sock out of my sneakers in the living room and bring it in to play with while I practice. He usually abandons it next to my mat, which, despite my best efforts, usually has a thin coat of dog fur on its surface. I stack my props in the corner of an old West Elm shelving unit which also contains my documents, training manuals, essential oils, and books. In Hell's Kitchen, silence is rare, so I have learned to breathe through horns, sirens, loud voices, and even louder music outside my windows.
And yet, I have had some of my best ideas in that little room. I have created classes, workshops, and trainings that I am proud of and that (I hope!) have brought the tools of Yoga to many, many people since I began teaching in 2003. Despite the shortcomings, I find a way to alchemize my conditions. Marty is barking? I will take it as a sign we should include Puppy pose. I don't have a "yoga chair"? I will improvise a different set up with my blocks and a bolster. Space is limited? Fine, we will leave out the Koundinyasana and work on Headstand. I actually enjoy the challenge and creativity involved with "imperfect" conditions.
I take the same attitude into cooking. My book, Modern Ayurveda: Rituals, Recipes and Remedies for Balance, has a big chapter stuffed with recipes. Truthfully, I left that chapter for last and my editor had to really nag me for it. Not because I don't like to cook. It's exactly the opposite, I love to cook. I don't use recipes, which is why I was resistant to writing them in a definitive way. I prefer to improvise, substitute, and make do. I affectionately call this approach "Kitchen Yoga".
Let me explain. In Yoga asana, we get on our mats with a bunch of raw ingredients. We have our bodies, as they are in that very moment, for better and for worse. Our mat and props are the cooking utensils that serve the final outcome. Occasionally, just like in our yoga practice, we have time to be leisurely in the kitchen. We play music and take the time to soak dried beans overnight instead of using a can, or dry roast whole spices instead of relying on pre-made spice blends. We have removed our jewelry, tied back our hair if needed, and enlisted the kids or a partner to wash as we go. There is tasting, laughing, and camaraderie. The oven preheats quickly and the knives are sharp and it all comes together to create a masterpiece. As lovely as that can be, it's not something that we can count on. Does this mean we should chuck it all and keep the pizza delivery on speed dial?
Because more often than not, it has to be a make-do approach. We don't have time, we are hungry, the kids need to be picked up, or the Zoom meeting starts in a half hour. So we make it work. We rummage through the cupboard and find a can of black beans and a jar of salsa. We rescue some slightly wilted celery and chop it up roughly, then dig through the spice rack and find some cumin powder, a little salt, and pepper. Don't have cumin? No problem. Coriander will be fine. No coriander? Deep breath. Eh, the chilis in the salsa will give it some spice. Voila! Dump it all in a saucepan and crank the heat for five minutes, give it a stir, then lower to a simmer for another ten. Delicious black bean soup, hearty and warming and inexpensive and quick. It works. Our bellies are full, our bodies are nourished, and we can move on with our lives.
Just like a half hour yoga practice, just like when our bodies are stiff or our minds are preoccupied or the room is too cold or small or noisy. Conditions are not always optimal, and that's okay. That's why I call it Kitchen Yoga. Thankfully, we have had our time on the mat, to become more accepting of "life on life's terms", as opposed to abandoning it all because it doesn't fit our idea of how it should feel, taste, turn out. And sometimes, the quick black bean soup or twenty minute practice is even more satisfying than the extensive fancy recipe from the latest trendy chef or the two hour workshop with the famous teacher, because we can congratulate ourselves on getting it done! We have found a way to nourish ourselves, in spite of it all.
As we move into the holidays, with family or friends gathering, cooking and meals might take more of a center stage. Instagram posts abound with perfect kitchens, perfect meals, and perfect tables. It's fun to look at and can be a great jump off point for recipes or a do it yourself centerpiece. What we don't see is all the time and work (and money!) that went into producing that perfect shot. Meticulous chopping, expensive ingredients, trying out different places settings, and lighting. It's a Vision Board, a beautiful fantasy that we might be lucky enough to live out once in a while.
My offering is a reminder of what gathering around a table with loved ones is really about: an ancient ritual of sharing sustenance, especially as days get colder and nights are longer. What makes it "perfect" is the intention behind the action. To nourish, to gather, to be grateful for what we do have. That's the Vision Board of Kitchen Yoga.
I wish you a warm and healthy Holiday Season, and leave you with a hearty recipe for a pot luck or buffet. It's quick, easy, delicious, and of course, I have included possible substitutions so you can practice Kitchen Yoga!
Namaste, Ali
---
Red Stew Chili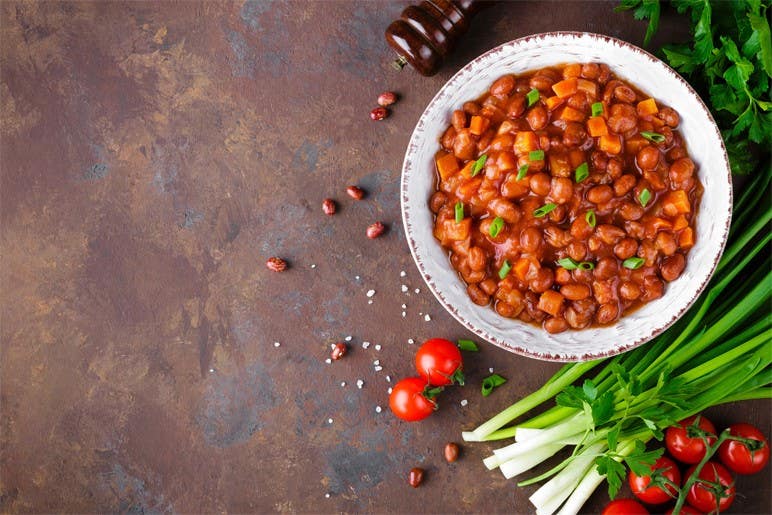 Adapted from Modern Ayurveda: Rituals, Recipes and Remedies for Balance by Ali Cramer
Prep time: 15 minutes
Cook Time: 35 minutes
Serves 4 (small bowls) or 2 (large bowls)
INGREDIENTS
2 Tbsp extra virgin olive oil (can substitute with ghee, coconut, or sesame oil)
1 small onion, diced (could be a few scallions, or shallots)
2 garlic cloves, minced (or a teaspoon of dried garlic powder)
2 small sweet potatoes, peeled and cubed (substitute any winter squash or white potatoes)
2 medium carrots, peeled and sliced
½ red bell pepper, chopped (green is fine too)
1 15 ounce can adzuki beans, drained (Or chickpeas. Or black beans, or pinto beans…)
1 15 ounce can diced tomatoes with their juice or tomato sauce
½ cup vegetable broth
1 tbsp chili powder
1 tsp ground cumin
½ tsp ground cinnamon (trust me)
Salt and pepper to taste
DIRECTIONS
In a stockpot over medium high heat, heat the olive oil. Add the onion and garlic, and saute for 2 minutes.
Add the sweet potatoes, carrots, and bell pepper, and continue to cook until the vegetables are softer, about 5 or 6 minutes.
Lower the heat to medium low, and add the beans, tomatoes, broth, chili powder, cumin, and salt and pepper. Stir to combine well.
Simmer, partially covered and stirring occasionally, for 20-25 minutes, until the flavors have mingled and the vegetables are cooked through.
Divide into bowls and serve.
Possible garnishes: dairy or non-dairy cheese or sour cream, chopped cilantro or parsley, crumbled tortilla chips.