While we may not have the necessary computer skills to break into the interwebs, we have all the tools we need to hack into the matrix of our own physiology, mind, and nervous system. It might even be said those tools are right under our noses! (Pause) It's our breath! (Groan) Let's get to hacking!
The breath is the very quickest and most efficient tool to enter our Nervous System because the two are inextricably linked. Our emotions, mind, body, and breath are intertwined. The yogis of old saw this and devised technologies and techniques to reverse engineer, emphasize or de-emphasize different emotional, physical, or mental states.
The Nervous System
We can break down the Nervous System into different bits to make it easier to talk about. But keep in mind it is a wildly interconnected system.
Think of your Nervous System as an octopus with its tentacles reaching into every other conceivable body system. The tentacle that we are mainly talking about hacking is called the Autonomic Nervous System (ANS) which famously has two big parts: Sympathetic and Parasympathetic. Innervating all of the major organs and glands, the main job of the ANS is to be aware and responsive to changes in both our external and internal environments, and move us effortlessly back and forth between engaged and resting states. It's incredibly susceptible to being hacked both "unconsciously", when say a car is swerving towards us or you're on your third hour of watching cable news, and more "consciously", when we choose to take a deep breath or partake in certain Yoga breathing techniques (pranayama).
"Fight or flight"
We might be a little more familiar with the terms "fight or flight" and "rest and digest". These phrases are usually used to describe a Sympathetic or Parasympathetic Nervous System activation, but in my opinion, they are lousy monikers. Yes, when the Sympathetic Nervous System is turned all the way up it sets off a cascade of chemical activity in the body that allows us to "fight or flight" our way out of a scary scenario. But when dialed down it's a very necessary system that helps us to do our jobs, be alert, and even be "in the zone".
In fact, I hope you are in a moderate Sympathetic activation right now! This way you can take in what you're reading, stimulate questions, and make connections. If you are drifting towards a Parasympathetic Nervous System activation you might start glazing over and sliding lower in your chair, even though this is the most exciting blog post you've ever read!
Nose erections
In moments when it would behoove you to be in a more alert state, or when you want to calm your nerves, you can use the breath to make one or the other nostril dominant through the magic of nose erections.
Record scratch
Nose erections??
Yes, you read that right. You have erectile tissue in your nose, and every 88 or so minutes, through the majesty of your Autonomic Nervous System, one nostril will swell making the other nostril more dominant (more available to breath). When the right nostril swells the Sympathetic Nervous System is more dominant. When the left nostril swells the Parasympathetic Nervous System is more dominant.
In a perfect world our bodies are effortlessly moving back and forth from Sympathetic to Parasympathetic activation. This supports us in being both engaged with the world around us as well as giving us ample time to relax, repair, and take care of the more internal housekeeping activities.
Breathing techniques to hack the nervous system
Breathing techniques can elicit a Sympathetic or Parasympathetic response in our Nervous system when we need to feel more alert, calmer, or to balance the two systems.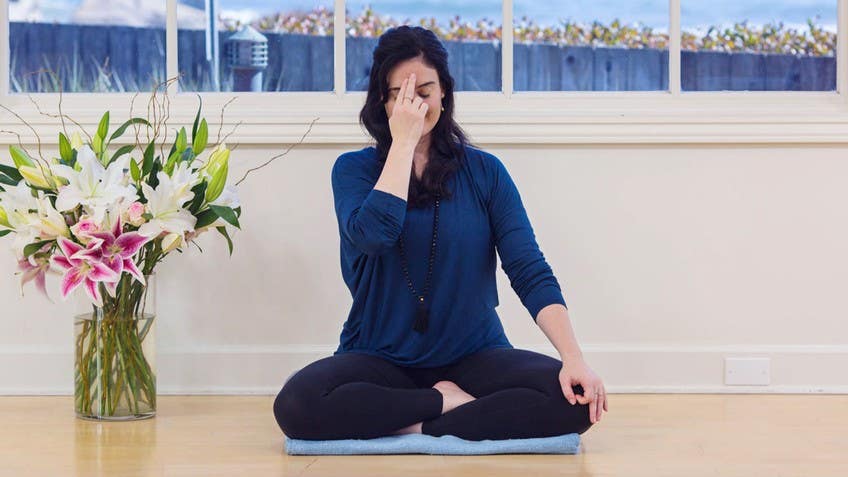 For the following techniques, place the first two fingers of your right hand between your eyebrows, the thumb next to your right nostril, and the ring and pinky fingers next to your left nostril, so that you can close one nostril or the other.
Surya Bhedana: To get a natural energy boost, close the left nostril with your ring and pinky fingers and breathe in through the right nostril. Release the left nostril and then close the right nostril with your thumb and breathe out through the left nostril. Do this sequence repeatedly. This technique will make the right nostril more dominant and help bring about a more awake and engaged state.

Chandra Bhedana: If you need to chill out, breathe in through the left nostril and out through the right repeatedly, making the left nostril more dominant and eliciting a Parasympathetic response.

Nadi Shodhana: Breathe in through the left nostril and out through the right, then in through the right nostril and out through the left repeatedly. "Alternate nostril breathing" mimics and perhaps extends a natural yet temporary state of equanimity that occurs in the transitioning between Sympathetic and Parasympathetic states. Funny enough, this state also spontaneously occurs when we laugh, daydream, orgasm, or meditate.
Thanks to the Yogis of old that learned and shared these hacks, we can become more masterful of our own Autonomic Nervous System, allowing us to choose or change our own physiological or energetic responses rather than being entirely at the whim of all the stimulus around us, and helping us to move back to our inherent state of balance and wholeness.
---
For more practices and to learn more about your Nervous System, please join me for my new show, Soothing the Nervous System, only on Yoga Anytime!